When Jesus was burdened and with his disciples at the last prayer, He expressed displeasure and disappointment that they could not watch just an hour with him (Matt 26:40).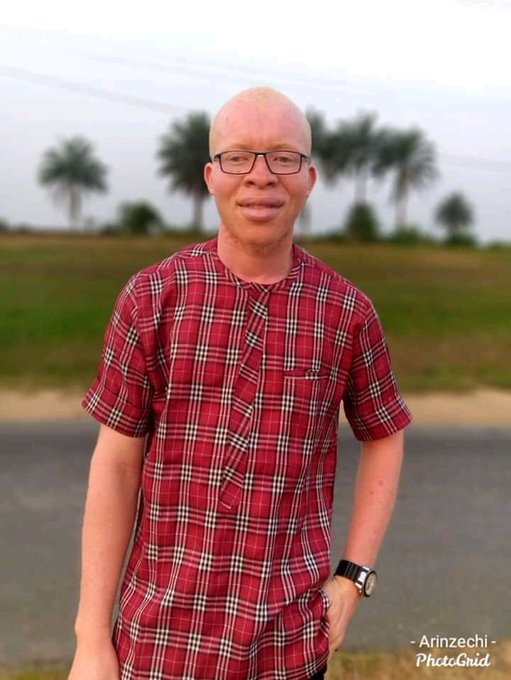 This is also the case of Okpara Arinze, a student of Calabar University, who was diagnosed with Chronic Obstructive Pulmonary Disease (COPD)- and who asks us to keep watch with him for just two hours.. Arinze, who has the condition, albinism, has suffered enough rejection in that he was refused seminary training for the Catholic priesthood because of this condition.
Undeterred, he entered into the University to bag a degree in philosophy. It is very sad to know that if nothing is done at this stage, Arinze, may not be able to throw up his graduation cap and flex his graduation gown with his fellow graduands.
In an interview, Okpara Arinze, who operates 'Radio Facebook' said that he was deeply disturbed but not being able to do anything, he only finds solace in associating with his friends and classmates. According to him, he has suffered enough rejection and jeers from the condition , albinism, and would not sit down and watch death snuff him away quietly and painfully.
Chronic obstructive pulmonary disease (COPD) is a type of obstructive lung disease characterized by long-term breathing problems and poor airflow. The main symptoms include shortness of breath and cough with sputum production. COPD is a progressive disease, meaning it typically worsens over time.
Eventually, everyday activities such as walking or getting dressed become difficult. Chronic bronchitis and emphysema are older terms used for different types of COPD. The term "chronic bronchitis" is still used to define a productive cough that is present for at least three months each year for two years. Those with such a cough are at a greater risk of developing COPD. The term "emphysema" is also used for the abnormal presence of air or other gas within tissues.
Nollywood Actress, Chika Ike Gets Big Butt through Plastic Surgery
Chika Ike Gets Big Butt Through Surgery A Nollywood actress producer and a business woman Chika Ike has reacted on the trending gist that she went nbsp through plastic surgery
Best Way To Grow Your Hair Quickly
BEST WAY TO GROW YOUR HAIR QUICKLY Do you desire to have your hair grown quickly Or do you wish to grow hair on some bald parts of your head
Tobacco smoking is the most common cause of COPD, with factors such as air pollution and genetics playing a smaller role. In the developing world, one of the common sources of air pollution is poorly vented heating and cooking fires.
Long-term exposure to these irritants causes an inflammatory response in the lungs, resulting in narrowing of the small airways and breakdown of lung tissue. The diagnosis is based on poor airflow as measured by lung function tests. In contrast to asthma, the airflow reduction does not improve much with the use of a bronchodilator.
Most cases of COPD can be prevented by reducing exposure to risk factors. This includes decreasing rates of smoking and improving indoor and outdoor air quality. While treatment can slow worsening, no cure is known. COPD treatments include smoking cessation, vaccinations, respiratory rehabilitation, and often inhaled bronchodilators and steroids.
Some people may benefit from long-term oxygen therapy or lung transplantation. In those who have periods of acute worsening, increased use of medications and hospitalization may be needed.
Arinze, a young and promising young man solicits the goodwill of influential Nigerians and the general public to help him treat and/or manage this disease. Please, Arinze can be reached through this number : 09060720039 or okparaarinzechukwu@gmail.com.
Donations can be sent to : 3130125478 , First Bank, Okpara Arinzechukwu.
Arinzechukwu still hopes to make an impact in the society and looks forward to the Catholic Priesthood. Whatsoever we do to the least of our brethren, we do so unto God! You can also connect with him on Facebook, Okpara Arinzechi
---
Read Also:
Pastor Impregnates more than 20 Church Members, Gives Reasons..
Pastor Impregnates more than Church Members Secretly A Nigerian Pastor has been arrested and detained for impregnating more than women and young girls who are among the congregations of the
Valentine's Day Freestyle with Guitar - Smart-G Music
Freestyle with Guitar - Smart-G amp Grace Boy Smart-G Music Smart-G and Grace Boy are young talented solo-artists with unstoppable zeal in music and in other careers of life They